To ensure that your vinyl records continue to sound great it is important that they are kept clean and that your turntable is well maintained.
Moss of Bath stock a range of Pro-Ject  accessories to help you take care of both and eliminate the snap, crackle and pop.
Brush-IT
Every vinyl lovers essential piece of kit; a brush specially designed to keep your precious vinyl in optimum playing condition; free of atmospheric and residue blemishes (unfortunately there is no total cure for scratches).
Simply run this brush around your record to clean the groove out before playing.
£15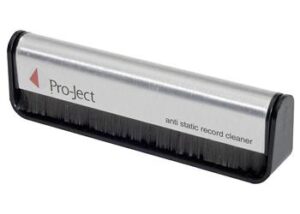 Clean-IT
The Clean-IT is a Carbon Fibre Stylus Brush that is a simple but effective device that can help prolong the life of your precious cartridge and vinyl records. By using this brush, you can remove most dirt and deposits from the stylus tip, which stops the cartridge mis-reading the groove of the record wall, causing a sub-par performance.
Continual cartridge and record maintenance is key to good audio performance.
£10
Measure-IT 2
Attractive and compact digital stylus measuring gauge; helping you allow for optimum cartridge performance and preservation of your vinyl records.
Key Features:
4 digit LCD-Display with backlight
Capacity 0 – 5g
Variance ±0,002g
Auto calibration function
Auto off after 120 seconds
Replacement batteries supplied
£90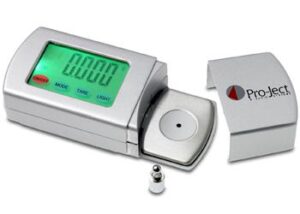 SPECIAL PROMOTION!
Purchase any Pro-Ject turntable in January 2017 and we will give you the Brush-IT anti-static record cleaner FREE OF CHARGE.