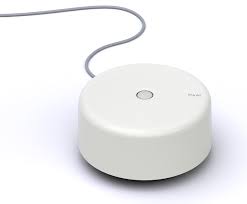 From time to time we see some interesting new products/brands which we think will complement our existing range and offer something a little different to our customers.
Let me introduce the Elipson Planet M a compact and attractive spherical speaker.
This exceptional product draws on the best acoustic technologies and it has a state of the art design for uncompromising sound results. By the strength of its 2-way coaxial speaker, Planet M combines musical excellence and compact design. This is a brilliant product that will perform with elegance and boldness. Available in 3 colors (glossy finish): white, black, red. Planet M Gold Matt : Also available in a luxurious black case, accompanied by an all-in-one amplifier (Nu force). £200
My second pick is the Punkt ES01 which is an extension socket!
Extension cables have always been the Cinderella of interior design. Until now, the only products available have been multi-purpose: living-room, studio, workshop, factory or garden shed.
The Punkt ES 01 changes all that. Its neat cover keeps everything looking tidy. You can choose whether to use the C-clip to bunch some or all of the cables together. The central switch lets you power everything off with ease. And the combination of elegant design and solid build quality (manufactured in Italy, using the finest craftsmanship) will bring a touch of class to any interior. Even that garden shed.
With 5 sockets, you can plug up to five devices in, creating a functional hub.
The Punkt ES 01 hides all the plugs and power cables under its sleek lid, which is removable. The cleverly designed, robust locking system offers one-touch opening.
Get organized and power your gadgets and devices with the Punkt ES 01!  £80