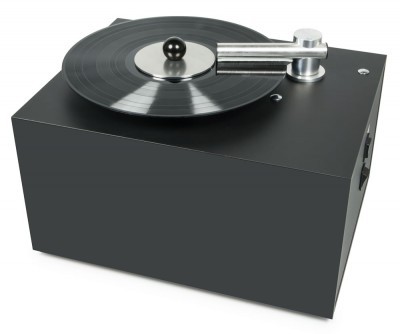 Pro-Ject Audio Systems, the world renowned manufacturers of premium hi-fi turntables, are expanding their portfolio in 2016 with the launch of their first dedicated vinyl record cleaner. The brand new VC-S uses a specially developed cleaning solution and high-powered vacuum technology to breathe new life into record collections.
Everyone with a collection of vinyl records knows how important it is to keep them clean. Every use exposes them to environmental impurities that accumulate over time, resulting in a build-up of dirt inside the record grooves that can negatively impact the playing cartridge's lifespan and the overall sound performance of a vinyl hi-fi system. The VC-S removes these impurities in a quick, efficient and cost-effective way to extend the life of your records, and bring greater musical enjoyment to your hi-fi experience.
The VC-S boasts many characteristics that help it stand apart as a superlative vinyl cleaner. The vacuum technology has been specially selected due to its high power, meaning a record side can be dried in as little two rotations. The motor is also much faster than alternative products, achieving a full rotation in around two seconds. It's also capable of dual-directional rotation, for deeper cleaning of the record groove with the supplied record brush.
The VC-S is supplied with Pro-Ject's newly developed vinyl cleaning solution. Wash-IT offers impressive cleaning results and also reduces the build-up of static charges on a record. Pro-Ject have also developed a special alcohol-free solution developed for use with older 78rpm shellac records (Wash-IT 78).
The Pro-Ject Vinyl Cleaning System is available to order from Moss of Bath.