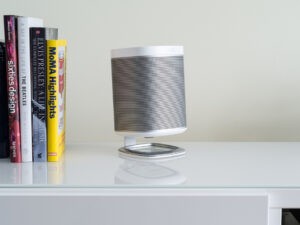 The Flexson Desk Stand: A compact, clever design that angles sound to your ear, minimises vibration and adds a stylish flair. Elegantly crafted and available in black and white, the Flexion Desk Stand for SONOS PLAY:1 is engineered to be a perfect match for the speaker. Recently featured on LondonFashionB7 blog.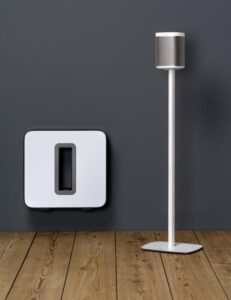 The Flexion Adjustable Floorstand for the SONOS PLAY:1 allows you to stand your speaker at the perfect height. Precision  engineered from aluminium and steel, includes neat cable management, available in black or white. Also featured is the Flexion wall mount for the SONOS SUB, you can lift it above carpets, skirting boards and more.
Flexson specialises in accessories for SONOS, from wall mounts and floorstands to ColourPlay colour skins, the VinylPlay digital turntable and a range of Custom Install (CI) solutions. Flexion accessories for Sonos are available at Moss of Bath.