Industry experts from Panasonic together with the knowledgeable team from Moss of Bath were on hand throughout the evening to answer questions and offer tips on how to get the most from the 3DTV viewing experience.
The 'stars' on the night were the Panasonic Viera VT20, recently reviewed by HDTV.co.uk as "the best HDTV on sale today" and the Panasonic 3D compatible camcorder, both available now from Moss of Bath.
The delicious food was supplied by Eat 5 Star which, together with the Champagne, made for a most enjoyable evening.
Harvey Samways, Sales Director, who organised the event said "3DTV is the next big breakthrough in Home Entertainment and here at Moss of Bath we consider that we have the knowledge and expertise to lead the way in the South West. With our superb 3D Demonstration Lounge Moss of Bath can offer our customers the ultimate 3D experience!"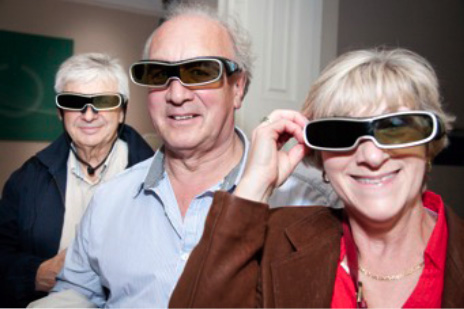 Doug Tustin, Ian Gratton, Kate Tustin experiencing 3D at Moss of Bath!
Photography by me@martintompkins.co.uk

If you would like to attend future events at Moss of Bath please register your interest by completing the contact form on the website.