The Consumer Electronics Show (CES) is a trade show held in January every year at the Las Vegas Convention Centre, US. The event showcases new products and technologies in the consumer electronic industry.
The biggest names in the technology world (with the notable exception of Apple and Google) are represented at CES, showing off and talking about their latest products and future plans and trends for the year ahead. This year it was estimated that there were over 3800 exhibiting companies including manufacturers, developers and suppliers and around 165k attendees from 150 countries.
In 2017 CES celebrated it's 50th anniversary having gained a reputation as the major technology event of the year over the past half-century.
Alongside a wide range of new products and concepts there is always room for the more unusual ideas; from home security robots to fitness trackers for your dog!
CES 2017 was a great year for televisions with the major TV manufacturers packing their televisions full of technology that really matters. Picture quality is being taken to even higher levels with the new wave of OLED, QLED, HDR, HLG TV's…soon to make their way into our showroom for you to experience.
Here are three of our favourites:
Panasonic EZ1002 4K OLED
This is the new flagship offering from Panasonic who unveiled its second 4K HDR OLED TV, the EZ1002. The Japanese firm says the new set can achieve up to 800 nits of brightness and, as well as supporting the HDR10 and Hybrid Log Gamma (HLG) HDR standards, features an Absolute Black Filter and new chip, the Studio Colour HCX2.
The 65-inch version of the Panasonic EZ1002 is set to hit Europe in June 2017, and Panasonic also added a trio of new 4K Blu-ray players to its AV range.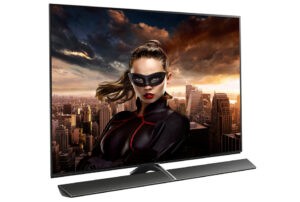 Sony Bravia A1 Series OLED
As expected, Sony finally joined the OLED party at CES 2017, announcing its first 'proper' OLED TV, the AE1 (A1 in the UK).
Quite apart from being an OLED TV, which is awesome, it has a 'unique' way of producing sound. Instead of speakers or a soundbar, which is the common way many slim TVs give you sound, the AE1 literally vibrates the TV panel to produce sound and create a stereo effect. There is a sub-woofer in the base which provides the bass! We are really looking forward to getting this one in store.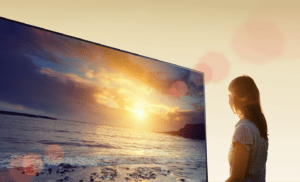 Samsung QLED
At CES 2017, Samsung launched its new class of 'QLED' TVs manufactured using an evolution of their Quantum Dot technology.
Quantum dots are tiny particles of between two and 10 nanometres in diameter. They're employed in displays due to their ability – in conjunction with other materials – to give off different colours according to their size.
The advantage of this is that they're capable of emitting brighter, more vibrant, and more diverse colours – the sort of colours that really make HDR content shine, thanks to the high peak brightness that can be achieved.
There will be three ranges of Samsung QLED, two flat and one curved.
These are our most anticipated new TV's of 2017 and we are eagerly awaiting their arrival in the UK.