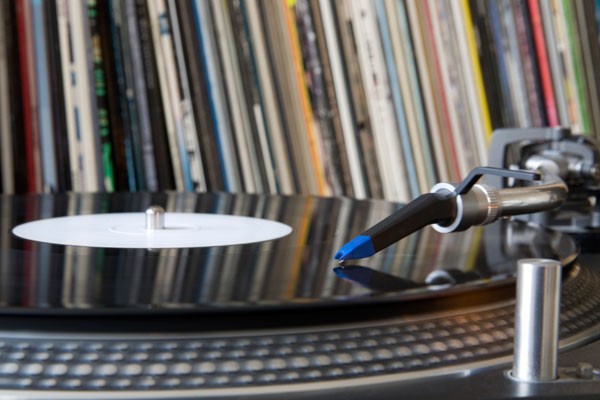 Vinyl sales topped three million last year, the highest UK total in 25 years.
Over 3.2 million records were sold in 2016, a rise of 53% on the previous year, according to the BPI, which represents the music industry.
David Bowie's 'Blackstar' was the most popular album on vinyl, selling more than double the number of copies of 2015's biggest-seller, Adele's '25'.
The last time vinyl fared so well in the UK, in 1991, Simply Red's 'Stars' was the year's biggest-selling record.
Vinyl has now enjoyed nine consecutive years of growth since facing near extinction in 2007. Some fans prefer the "warmth" of the sound compared with digital files, while others buy LPs as souvenirs and works of art.
Last year, a BBC/ICM poll found that people who listened to music on streaming services were more likely to buy vinyl – often as a goodwill gesture to an artist they loved.
Top 10 vinyl albums of 2016
1) David Bowie
Blackstar
2) Amy Winehouse
Back To Black
3) Various Artists
Guardians of the Galaxy Mix 1
4) Radiohead
A Moon Shaped Pool
5) Fleetwood Mac
Rumours
6) The Stone Roses
Stone Roses
7) Bob Marley
Legend
8) The Beatles
Sgt Pepper's Lonely Hearts Club Band
9) Prince
Purple Rain
10) Nirvana
Nevermind
Moss of Bath stock a range of turntables that will allow you to get the best out of your vinyl collection. Prices start from £265.
http://mossofbath.co.uk/product-category/pro-ject-audio-systems/
http://mossofbath.co.uk/product-category/technics/