Defying the limits of home cinema.
With this flagship AV receiver you will experience all your favourite films and music exactly as the creators intended. The SC-LX88 features only high-end components, each rigorously calibrated and professionally tuned by the legendary Air Studios, to bring studio quality sound right into your living room.
Especially for audiophiles, the SC-LX88 is equipped with a SABRE 32bit Ultra DAC and a powerful Class D Amplifier. Together, they reproduce music with unsurpassed fidelity, up to 220 watts per output channel. Unique to this AV receiver is the asynchronous USB-DAC, which allows a direct USB connection for your Mac or PC, supporting Native DSD and 192 kHz/32-bit audio content.
The cherry on the cake is the newest surround sound technology: Dolby Atmos. The SC-LX88 allows you to place overhead speakers for a multi-layered, dynamic, and three-dimensional sound that is completely in sync with the screen view, providing total immersion with unprecedented sound localisation and movement.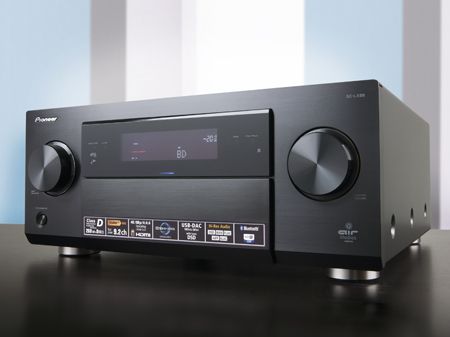 This Pioneer Home Theatre Receiver is for sale at Moss of Bath for £1700 (+£45 delivery if necessary). Usually priced at £2199, the receiver is BRAND NEW and in a SEALED BOX. Please call in store for details or 'phone 'sales' 01225 331441.