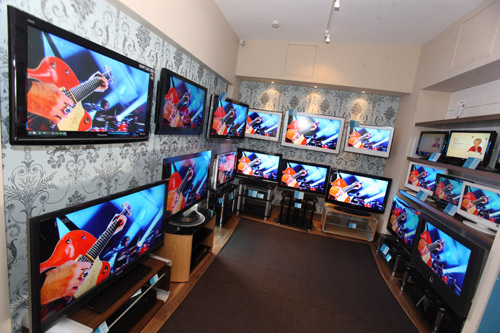 The new showroom has been designed to reflect the work that Moss of Bath undertake in people's homes, with a number of wall mounted screens on display showing the function and versatility of elbow and scissor action brackets.
Owner, Tim Moss, said "There are many ways to install televisions into your home. Our new showroom will allow people to come and look, and imagine how a custom installation will work in their property. Our aim was to create an environment where customers will be wowed by the shopping experience."
The new shop fit at Moss of Bath has been carefully designed to enable the business to provide unrivalled demonstration facilities and to allow for expansion as future technologies enter the consumer electronic market e.g. 3D television and internet integral TV.
The new showroom allows Moss of Bath to display more products and, more importantly, is digitally prepared for the analogue switchover in the West TV region in which begins on 24th March 2010.
For more details please contact Anne Moss 01225 331 441 / sales@mossofbath.co.uk