PLEASE NOTE, THIS OFFER HAS NOW EXPIRED.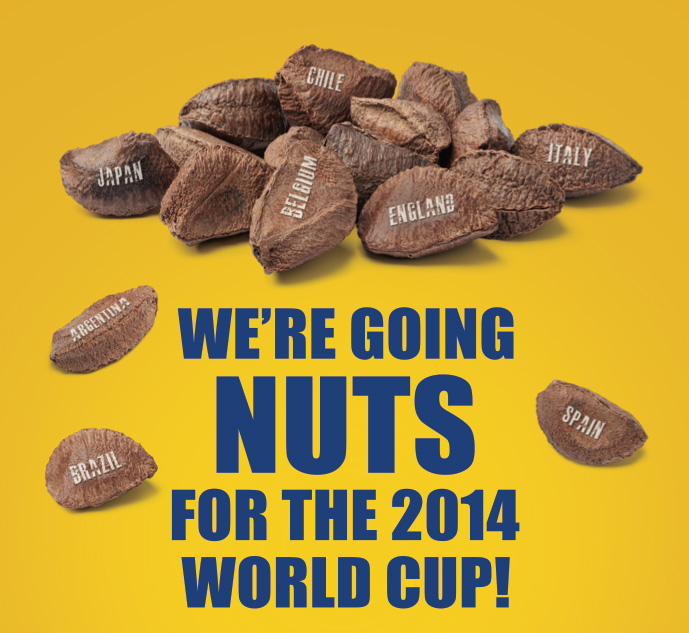 Don't fancy England's chances? Enter our Nuts for the 2014 World Cup prize draw instead. You could win a one night stay at the Queensberry Hotel with dinner for two at the award winning Olive Tree Restaurant. We'll throw in a Roberts DAB Digital Radio and a selection of hand-made chocolates to round things off.*
How's that for a one-two? Call in to find out more.
* World Cup Promotion: Terms and Conditions.
Moss of Bath will refund the full purchase price of the television, excluding VAT, if England win the 2014 World Cup. The promotion will run from 10th May – 26th June 2014 and applies to all televisions paid in full during this period. Moss of Bath cannot be liable in the event of disruption to the World Cup including, but not limited to, terrorist activity or cancellation of the games, and in such circumstances this promotion is void. Refunds will only be given on receipt of a valid Moss of Bath receipt which will be issued at the time of purchase. Refunds can only be claimed from 14th – 31st July 2014 from Moss of Bath at 45 St James's Parade, Bath and will be paid in cash only. The winner of the World Cup will be the team recognised by FIFA. Excludes all other in-store promotions.
Should you decide to enter the 'Nuts for the World Cup' prize draw instead, and your 'chosen'* team win the World Cup, your details will be put into a draw which will be made on Monday 14th July 2014 at Moss of Bath 45 St James's Parade. A name will be chosen at random and the eventual winner will receive: A one night stay for two people at The Queensberry Hotel, Bath with dinner at The Olive Tree restaurant. (This may not be taken on Christmas Eve/ Day, New Years Eve/Day or Valentines Day).
A Roberts Revival radio and a box of handmade chocolates. No cash alternative will be given. *Nuts to be chosen from a bag, you will not be able to choose your own number*