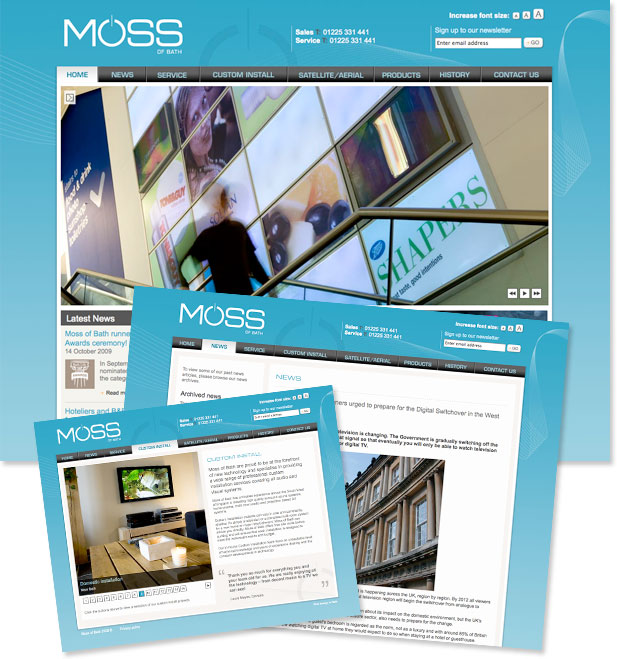 As well as improving the look of our previous website, the new one is built using the very latest technology and should serve us well for years to come.
The key features of the website are a latest news section so we can keep you up to date with the very latest goings on here at Moss of Bath, from the Digital Switchover to our new look Showroom and the latest hi-fi products.
We've incorporated a section showing some of our recent and best Custom Installations of high quality surround sound systems, home cinema, multi room audio and projection based AV systems.
We've also built in the facility to increase the text size of the content while you browse, something customers with eye sight similar to mine will approve of! To do this, please use the text controls which are situated in the top right hand corner of the site.
RSS feed
You can subscribe to our latest news via an RSS feed and be informed when new news articles appear.
Newsletter
If you would like to receive a newsletter periodically and keep up with the very latest goings-on, then you can sign up by entering your email address in the box below. We promise not to mail too often, and we will not share your details with any third party companies, for more information please read our Privacy policy.
Sign up to our newsletter
Feedback
Finally, please let us know what you think of the new website? Please send us an email using the form on the contact us page, we're always keen to get your opinion so we can continually improve what we offer you.
Website credits
Our new site was designed and built by Covert Digital. We are really happy with the website they've built for us, and looking forward to developing the site and our email marketing together in the future. We would recommend their services to any business looking for web design in Bath.

To find out how we can work some digital magic for you, please visit our website and contact us for a free, no obligation quote. www.covertdigital.co.uk, Web designers in Bath