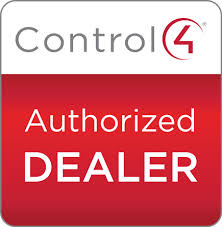 Moss of Bath is proud to announce that two members of our Custom Installation team have been trained and accredited with the Control4 Home Automation Programmer qualification.
Control4 is the leading provider of automation systems for homes and businesses and one of the pioneers of Smart Home Automation.
Control4 delivers an elegant and affordable way to control, automate and interact with the products and systems you already have and use everyday making them work together. From lighting to home entertainment Control4  eliminates the need for multiple remote controls. One touch, one remote.
No longer just an option for the villain in a James Bond movie, the popularity of Smart Home Automation and the 'Internet of Things' has increased in recent times due to affordability and simplicity through smart phone and tablet connectivity. The Control4 system becomes the 'brain' of your smart home, allowing electronic devices to work together, no matter what the size of your home or business.
Certification is necessary for any dealer who wishes to sell, install and support Control4 products and our team successfully completed the four day intensive course which was a mixture of classroom learning and hands on activity…with homework set each evening!
The Moss of Bath Home Automation team now provide all aspects of smart home technology and home entertainment solutions and will work with the client to create the ideal set-up in your home or business.
– Multi-Room audio visual
– Home Cinema
– Data & Wi-Fi Networks
– HD Projectors & Televisions
– Home Entertainment & Media Rooms
Our unrivalled experience and expertise working with builders, developers, specialist trades, architects and designers makes Moss of Bath the perfect choice to deliver Smart Home technology to meet your needs. From home cinema to the perfect audio experience Moss of Bath can provide all the ingredients for your smart home.