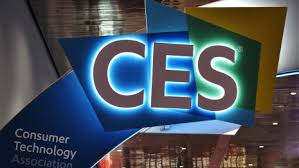 It is big and it is clever: Latest TV launches at CES 2018.
The Consumer Electronics Show (CES) is a trade show held in January every year at the Las Vegas Convention Centre, US. The event showcases new products and technologies in the consumer electronic industry and is the largest event of its kind.
The biggest names in the technology world  are represented at CES, showing off and talking about their latest products, future plans and trends for the year ahead. This year it was estimated that there were over 3900 exhibiting companies including manufacturers, developers and suppliers and around 170k attendees from 150 countries.
The big themes at CES this year were AI and voice assistants meaning that our smart technology is destined to get even smarter!
Televisions took centre stage at CES 2018 again with the major TV manufacturers packing their televisions full of technology that really matters and on a mission to finally make 8K an inevitability. Picture quality is being taken to even higher levels with the new wave of OLED, QLED, HDR, HLG 8K HDR10 TVs soon to make their way into our showroom for you to experience.
Panasonic celebrates its centenary year in 2018 with two new 4K OLED televisions. The new Z950 models will be supplied with a Technics-voiced soundbar and the Z800 range will come without a soundbar  but otherwise will be identical. The new televisions will feature the same colour accurate OLED displays that Panasonic have been selling to Hollywood studios.
Sony will continue to offer their extremely successful A1 range of OLED TVs in 2018 (one of the best televisions on the market) but will also be adding the AF8 range in 55″ and 65″ screen sizes. The new AF8 models feature the same premium OLED display as well as its innovative acoustic surface audio technology where the screen itself produces the sound. The Sony AF8 has a more conventional stand design.
'The Wall' by Samsung was unveiled at CES.  It is a 146″ modular TV screen which allows it to connect with other units to create an even bigger display. The idea being that you could transform an entire wall of your home into a giant screen!
The MicroLED technology featured in The Wall eliminates the need for colour filters or backlight, yet allows the screen to offer consumers the ultimate viewing experience.
Featuring a module-based, bezel-less design, The Wall  exemplifies how consumers can customise their television sizes and shapes to suit their needs. The screen can adapt to serve different purposes, such as creating a wall-size display for multiple spaces.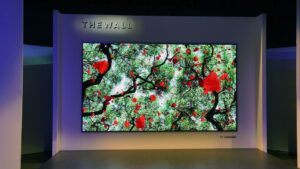 Moss of Bath will have the latest 2018 range of televisions in-store this Spring.