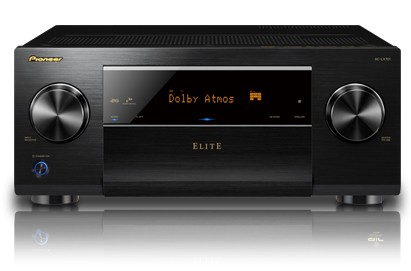 Pioneer has launched a trio of high-spec elite AV receivers, all featuring multi-room audio, including the SC-LX701.
Versatile and dynamic with the legendary Pioneer build quality, the SC-LX701 is the perfect combo of cutting edge technology for the home as both it's audible and visual output is impeccable.
All three models feature Multi-Room Audio, which allows for the wireless distribution of a variety of sound sources — including LPs and streaming services — in different rooms. Also included are the latest network functions, including Google Cast and music streaming services including TIDAL, DEEZER, Spotify®, and TuneIn.  Each model also incorporates MCACC Pro, an automatic room calibration technology that adjusts specifically to your environment to deliver optimized object-based audio. This automatic acoustic calibration system works in sync with the new 'Reflex Optimizer' feature, this delivers the ideal object-based audio reproduction when using up-firing speakers in a Dolby Atmos speaker array. The featured Direct Energy HD amplifiers, allow simultaneous output from all channels with no power loss.
Available in either black or silver, brushed metal finishes, the Pioneer SC-LX701 AV Receiver is a great option for a 9-channel receiver packed with the all of the features for a top of the range home-cinema system.
For more information and a demonstration, please call in to see our sales team at Moss of Bath.